My Mission
Create a Community of Mindset Mastery, Healing and Sustainable Joy for Mission-Inspired Entrepreneurs
The YINpreneur™ Village is a sacred space, created for you - a diverse, global community of women who prefer conscious living over a yang-masculine, linear way of working and being in life and business. Women who want to lead with heart, softer edges, and their intuition.
your sanctuary of peace, prosperity, and creativity
The Village is designed so that each visit leaves you feeling more connected, fully supported, lighter in spirit, joyful and abundant. If you dedicate yourself to the recommended practices you will find yourself living and working in a way that brings you peace, sustainable power, and prosperity.
---
a virtual haven and gathering space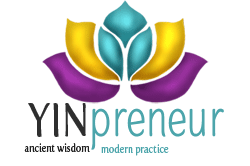 I appreciate that you are busy living, loving and creating your life and work. Spending your days giving to your family, friends, work, volunteer groups and so much more.
I want you to enjoy this with ultimate energy and prosperity, versus the stress and fatigue that plague so many women entrepreneurs. I believe that you deserve a retreat, and I want to make this happen for you.
This is what inspired me to create this haven, known as YINpreneur™ Village - a place you can visit when the need or desire arises, wherever you are in the world, 24 hours a day, seven days a week. With just a few clicks, join us live or by recording, so you can be on retreat or receive resources to bring you peace and prosperity.
connection with our sacred circle of heart-centered, mission-inspired women
Weekly
Wisdom Tea virtual meditation (phone or Zoom audio)

YINpreneur gatherings (Zoom or FB Live)

(NEW in 2018) Spiritual Co-Working Space
Seasonal/Quarterly
Seasonal/New Moon (solstice/equinox) virtual journaling retreats (Zoom)

Focus Friday,Get It Done Day (half-day virtual retreats -Zoom)

Busy Women's Book Club virtual gatherings (Zoom, quarterly)


Conversations with YIN Masters (virtual gatherings + replay archives)
Bonuses
✨ YINpreneur (conscious) Business Guidance & Courses
✨ Access to private Facebook group
✨ Archival library of prior years (retreats, meditations, resources)
✨ BONUS: One private 1:1 clarity coaching session with Karen (founders)
New in 2018 - 2019
✨ Virtual retreats (seasonal and Get It Done Days)
✨ Virtual meditation circles (weekly
✨ Spiritual Co-working (Zoom)
✨ Conversations with YIN Masters (returns)
✨ Spiritual Geek - HeART of Tech (free for founders & discount for Village members)
✨ Member-only discounts on all paid courses (not already included in membership)
💻 Access to years of archives of the above and more (audios, videos, PDF journal guides, and at-home retreat guides)